La-Z-Boy Features
CUTTING EDGE INNOVATION.
IT ISN'T JUST SOMETHING WE STRIVE FOR – IT'S IN OUR DNA.
You don't become a renowned American brand without assembling a team of imaginative designers and craftsmen who stand behind their products and each other. We stay innovative today by continuously looking at new ideas, technology and trends. The result is not only outstanding quality and functionality, but also product features that are unique in the marketplace. At La-Z-Boy we're proud of our reputation for quality and make every effort to uphold it. It's what we're made of.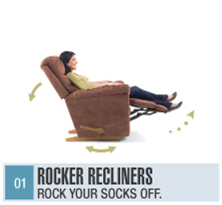 Rock and recline with total body and lumbar support at all times
Three-position locking footrest offers long-lasting support
Patented La-Z-Boy mechanism for the smoothest reclining motion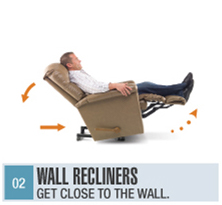 Full reclining comfort with space saving convenience
Adjustable settings to customize your reclining comfort
Exclusively engineered for the smoothest reclining movement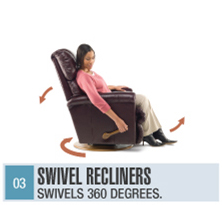 Smooth, level reclining motion perfect for watching TV
Optional 360° swivel base takes comfort full circle
Exclusive base designed for superior stability and support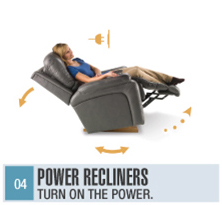 Power controlled reclining to any position for personalized comfort
Effortlessly go from sitting to fully reclined in just six seconds
Quiet and stable base for smooth reclining operation
Power-assisted control to sit, stand or recline smoothly and easily
Independent back and legrest positions which allow you to personalize your posture
Easy-to-use hand-held control for simple operation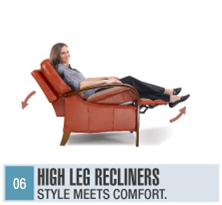 Great looking styles with hidden reclining comfort
Choice of distinctive high leg and low profile designs
Available in fashionable fabrics and top grain leathers