iClean™ Innovation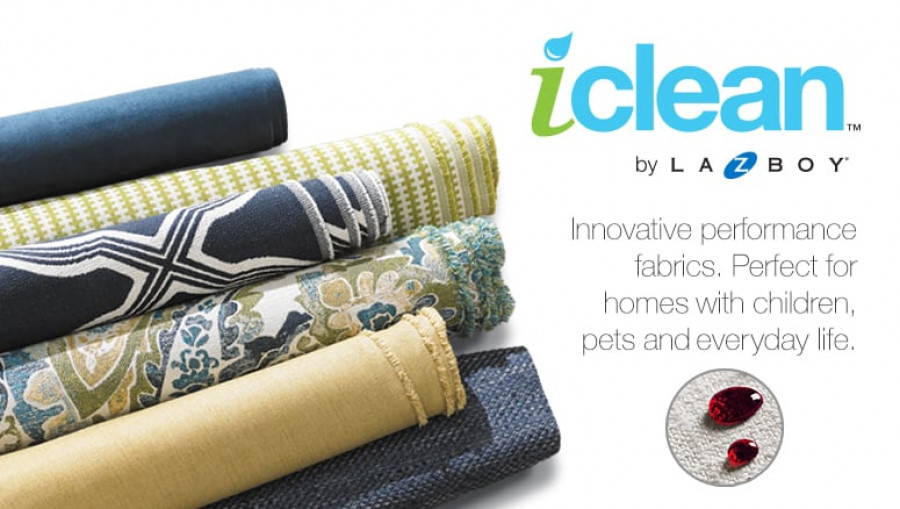 La-Z-Boy is excited to introduce iClean, its new and innovative stain-repelling fabric. iClean is a high-performance fabric that incorporates safe, sophisticated chemistry to protect and surround each fiber, repelling spills before they turn into stains. Everyday spills are now protected with iClean, including coffee, wine, salsa, dirt, chocolate and more. La-Z-Boy offers customers quality recliners and sofas made for their everyday life. Get innovative comfort, with Iclean, because Spills Happen but Stains Don't Have To!
• STAIN RESISTANT
Innovative technology that surrounds each fiber to repel spills before they turn into stains.

• EASY TO CLEAN
For most spills, simply blot with a paper towel; for tougher spills, use a mild soap and water mixture.

• SOFT-TO-TOUCH
Luxurious feel, exceptional comfort; available in a wide selection of colors, pattern, and textures.

---
Recommended cleaning Instructions
---
* For liquid spills, immediately dab or blot gently the fabric surface with a white cloth/towel to remove the spilled liquid.
* For non-liquid spills, immediatly remove the excess spilled material from the fabric by lifting it off the affected area with a butter knife onto a white cloth/towel
* To spot clean the spilled area, soak a white clean colth/towel in a soap and water micture and clean the tainted area in a gentle circular motion.
NOTE: DO NOT RUB THE STAINED AREA WHEN CLEANING.
STAINS THAT ARE NOT COVERED INCLUDED, BUT ARE NOT LIMITED TO:INK MARKS AND MUSTARD, OIL BASED PRODUCTS (SUCH AS SALAD DRESSING, LOTION, ETS) WAX-BASED PRODUCTS (SUCH AS CANDLE WAX AND CRAYONS, ETC)